3 Ways the ToxTracker® Assay Can Evaluate Harm Reduction Potential for Tobacco/Nicotine Products
In vitro toxicology assays such as Ames, neutral red uptake, and micronucleus, are routinely used for regulatory submissions for tobacco and nicotine-containing products. While these assays provide information on a sample's mutagenic, cytotoxic, and genotoxic potential, they are limited in that they only indicate that damage has been done. They cannot indicate how the damage occurred as they do not provide mechanistic insight into how the sample causes cellular damage.
The current trend in in vitro toxicology is to move toward 21st Century toxicology assays that provide information on the sample's mode-of-action (MOA). The ToxTracker® assay is a genotoxic assay that can provide information on the MOA, allowing development teams to assess the genotoxic potential of a new formulation before larger scale production when in vitro regulatory testing is performed. It is a valuable screening tool to assess product safety.
In this post, we will explain how the ToxTracker® assay can help manufacturers of tobacco and nicotine-containing products assess potential risks earlier in the development process and generate valuable data for their regulatory applications.
What is the ToxTracker® Assay?
The ToxTracker assay is a cell-based reporter assay used to evaluate the genotoxic potential of chemicals and compounds. The assay uses a panel of reporter genes that respond to specific cellular pathways that are commonly activated by toxic substances. These pathways include the following:
Genotoxicity (DNA damage)
Oxidative stress
Protein damage
cellular stress
Reporter cell lines are exposed to a test substance and the resulting changes in the gene expression patterns are monitored using high throughput technologies (such as flow cytometry). The changes in gene expression provide information about the test substance's ability to activate DNA damage, oxidative stress, protein folding, or cellular stress pathways.
One of its most valuable features is that it provides insight into the mode-of-action of toxic compounds, which can provide additional information for reliable risk assessment.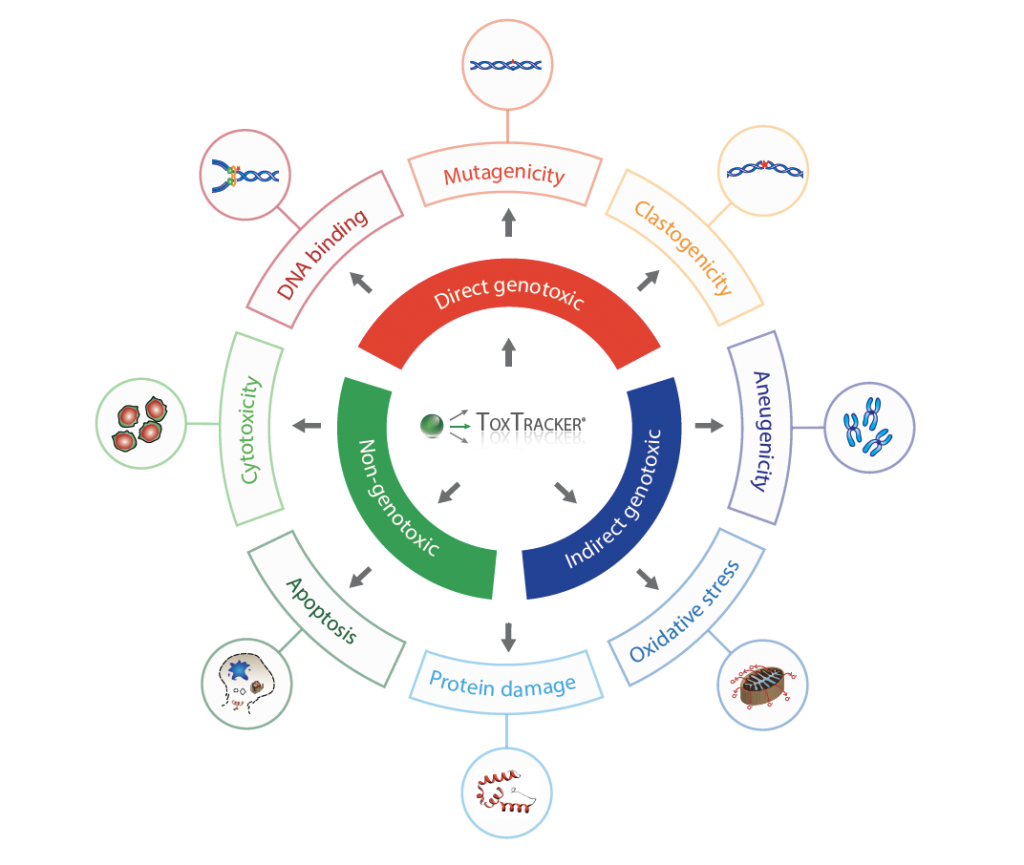 Watch the Video: Next Gen Gentoxity Testing
How Does ToxTracker® Work?
ToxTracker is a green fluorescent protein (GFP) reporter gene assay. The different reporter genes that are combined in ToxTracker indicate activation of various cellular responses that are associated with genotoxicity and cancer. ToxTracker consists of 6 different GFP reporter cell lines that can detect the induction of DNA damage, oxidative stress, and protein damage in a single test. The assay can thereby provide insight into the MOA of compounds. Biomarker activation is assessed by measuring the expression of the GFP-tagged reporter genes using flow cytometry, making ToxTracker® a highly quantitative assay.
ToxTracker uses six different GFP cell lines that can detect a wide range of potential genotoxic and carcinogenic compounds, making it a valuable screening tool for your research and regulatory projects.
Reporter Assays (Like ToxTracker®) Offer Advantages
As we said, a traditional assay can answer the question, "Is this compound toxic?".
For example, the NRU assay can determine that compound X is cytotoxic because it decreases cellular viability by 70%. However, the NRU assay cannot indicate how this occurs.
However, a reporter assay such as ToxTracker can indicate which cellular pathway is activated through induction of the green fluorescent reporter genes, providing increased sensitivity and specificity.
ToxTracker Reporter Genes
ToxTracker uses 6 unique reporter genes that correspond to different cellular outcomes.
| | |
| --- | --- |
| Bscl2​ | Selectively activated after exposure to genotoxic agents​.Activated following induction of promutagenic DNA lesions and subsequent DNA replication stress​.Activation is associated with inhibition of DNA replication. |
| Rtkn | Activated by DNA double-strand breaks. |
| Btg2 | Part of the p53-mediated stress response pathway. ​Activated by a broad spectrum of (geno)toxic compounds; results in DNA damage, cytotoxicity, and apoptosis. |
| Srxn1 | Induced upon oxidative stress; depends on the production of reactive oxygen species (ROS). |
| Blvrb | Induced upon oxidative stress; depends on the production of reactive oxygen species (ROS). |
| Ddit3 | Activation results in improper protein folding; protein damage​. |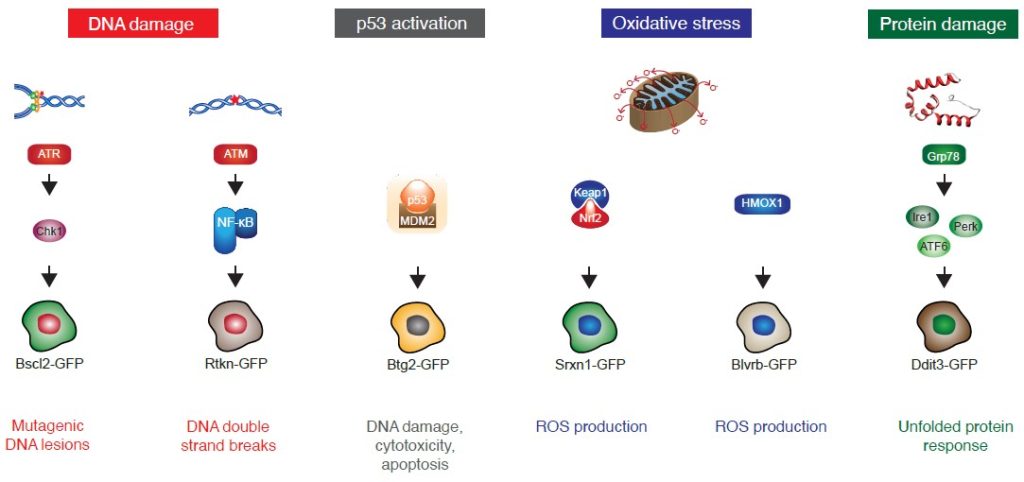 How Does ToxTracker® Benefit Tobacco/Nicotine Product Manufacturers?
By now, you can see how the ToxTracker genotoxicity assay can help streamline your product development process. Let's take a closer look at three key benefits for manufacturers of tobacco and nicotine-containing products:
1. Valuable Screening Tool
Providing robust toxicology studies for the regulatory application process is vital to bringing a product to market. For PMTA applications, to help understand the health risks of a tobacco product, FDA recommends providing a full assessment of the toxicological and pharmacological profile associated with the new tobacco product. The lift is even higher for MRTPs. FDA expects "bold, innovative product changes that substantially reduce, or even eliminate altogether, either the toxicity or addictiveness of tobacco products, or both." And the nonclinical toxicology studies should use methods that are sufficiently sensitive to assess the actual differences between use of the product and use of other tobacco products, or between use of the product and non-use of tobacco products.
ToxTracker can be used to assess the genotoxic potential of a new formulation before larger scale production when in vitro regulatory testing is performed. It provides you with valuable data about your products sooner, allowing for any modifications to your product prior to regulatory testing.
2. ToxTracker® Results Correlate with Traditional Regulatory Assays
ToxTracker has been used to test more than 1,500 compounds, including various chemicals/formulations from different industries, such as pharmaceutical, chemical, and tobacco/nicotine.
You can read one paper from a tobacco company that used ToxTracker for the assessment of vape e-liquids and aerosols here.
Toxys, the company that developed ToxTracker, has assessed various results of the assay and has found an excellent correlation with standard in vitro and in vivo regulatory genotoxicity assays, such as Ames/MLA and MN/CA assays.
It has shown high sensitivity and specificity for the detection of genotoxic compounds compared to other assays:
| | | |
| --- | --- | --- |
| Test Name | Sensitivity (%) | Specificity (%) |
| ToxTracker® | 95 | 94 |
| Bacterial Reversion (Ames) | 60 | 77 |
| Mouse Lymphoma Assay | 81 | 48 |
| Micronucleus Test | 81 | 54 |
| Chromosome Aberration | 71 | 44 |
This unparalleled sensitivity and specificity compared to traditional assays can provide mechanistic insight into positive results obtained by regulatory assays.
3. Provides Additional Information for Regulatory Applications
As mentioned earlier, manufacturers of tobacco and nicotine-containing products must provide data in their regulatory applications that demonstrate product safety compared to traditional products.
In vitro toxicology testing is a big part of the strategy of many companies when compiling data for regulatory purposes. Because ToxTracker provides mode-of-action information with unparalleled sensitivity and specificity, it offers value for your regulatory applications.
Here are five studies in which ToxTracker was used to assess the toxicological properties of various tobacco/nicotine products:
Why Choose Labstat to Run the ToxTracker® Assay on Your Products?
Unlike other labs, Labstat can generate the sample and perform this assay in-house to maximize sample integrity and save time by eliminating the need to prepare and ship samples to another lab. This saves you time and money.
In addition, running the ToxTracker assay on your products allows Labstat to partner with you earlier in the product development phase and share the benefits of our vast experience, rather than beginning our support during the regulatory submission phase.
This helps you acquire the best information as soon as possible, streamlining your product R&D.
Contact us today to discuss how the ToxTracker assay can help you get your products to market sooner.